Will Virtual Reality really become part of our Real Life? As we start to familiarise ourselves with the Metaverse, here are the main fun facts we would like to share with you.
3 minutes -read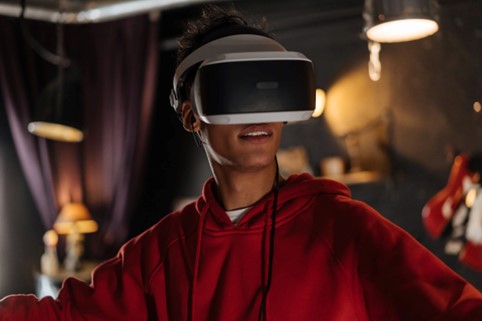 1. Why the Metaverse is not new
A Metaverse is defined as any form of digital reality populated by avatars capable of interacting with each other. Video game fans are well aware that this type of reality has already been established for years: just think of Roblox and Second Life, just to name a couple.
The idea itself is not new either: the term was coined in 1992 by science fiction author Neal Stephenson in his cyberpunk novel "Snow Crash".
2. What the Metaverse really is
The Metaverse is a virtual world we choose to visit to distance ourselves from the real world. It is and will be an escape from the world inhabited by our bodies, which will allow us to have completely new experiences and which we can enter through a PC, a game console, a mobile device or a wearable device. Our experience will be 100% 3D. The link with reality comes through the type of experience we are going to have: often we will find ourselves in front of an exact copy of the real thing we experience every day, for example a café where we go in to have a coffee but as our avatar. Escape from Reality, but also a new Reality.
3. What you can buy in the Metaverse
Compared to familiar experiences such as Second Life, in the new Metaverse, thanks to NFTs, virtual coins can be purchased with real money: a real, certified digital asset. The revolution lies in the fact that images, and virtual objects in general, become exclusive objects that can be purchased through the use of the blockchain, with a non-replicable code that makes their possession unique.
4. What is the difference between the Internet and the Metaverse
If you think the Internet and the Metaverse are the same, you are wrong. The first one is a network of computers, servers and other electronic devices: users, once online, communicate with each other, interact, visit sites, make purchases, and so on. The Metaverse, on the other hand, is a true Virtual Reality where users, through their avatars, interact, perform activities, make purchases and participate in events in a world that mimics the physical one and which they access using technologies such as virtual reality (VR), augmented reality (AR), artificial intelligence (AI), social media, and digital currency. On the Internet you simply surf, in the Metaverse you live.
5. How to enter the Metaverse
Meta is accessible via the Oculus Quest 2 VR. However, there are also other devices that can open the virtual doors of this reality: VR headsets, AR glasses, computers, tablets, and smart phones. This aspect is not yet fully outlined and definitive, but we know that the more immersive the device, the more engaging our experience in the Metaverse will be.
Are you looking for an influencer for the Metaverse? Get in touch!