Our exciting experience at ICE London 2022
ICE London was the perfect opportunity to return to in-person meetings for the first time in two years, and it felt great seeing the stands packed with people. Not to mention the city of London, the setting for this extraordinary event.
We had a lot to share and we're really happy we managed to do so with all our visitors, who came in large numbers. We met over 130 potential customers from 21 countries and 5 continents. It was very interesting to talk with them, to analyse the prospects and discuss future projects, to share the value that 1Stop Translations can offer by accompanying iGaming companies towards new goals and objectives.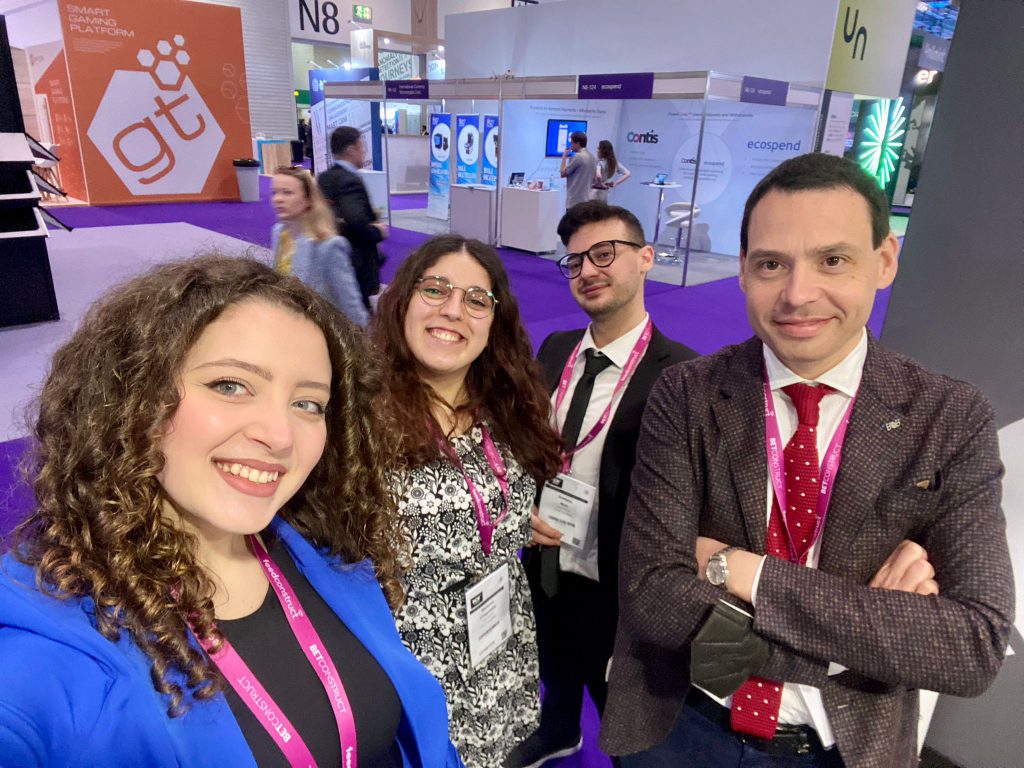 It was exciting to meet our customers, to have a toast and a friendly chat with them. Some of the visitors became our customers during the pandemic, so we hadn't yet had the chance to get to know them in person. Warm handshakes accompanied the satisfaction of finally being able to see each other in real life.
But there was much more at ICE: rediscovering the pleasure of being near other people, of associating human, three-dimensional faces to e-mails, video calls and Skype or Slack messages. OK, we're getting a bit too personal now, but we really wanted to share it!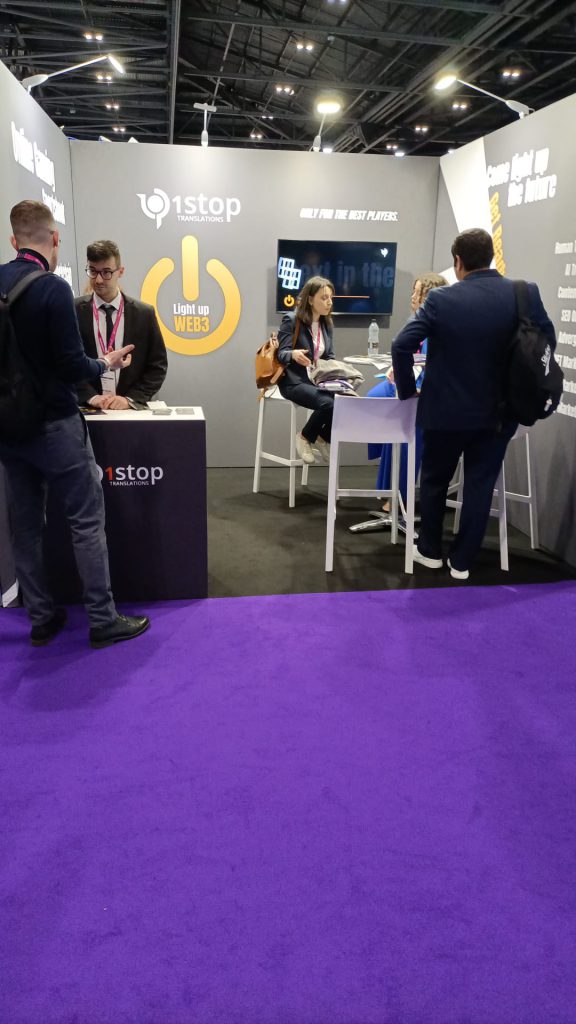 Here's how it went at ICE 2022
First of all, our small but engaging stand. We received many compliments also thanks to the contribution of Sign It, our installation partner, who made sure we found upon arrival a stand perfectly in line with our expectations, with excellent visual impact and great attention to details. Really good work.
Right from the start, visitors showed a great deal of interest in our services. The slogan "Light Up Web3", in combination with the series of services offered listed on the left wall of the stand, immediately communicated that we offer so much more than linguistic localisation.
In these years of hard work and fruitful relationships, many things have changed. We have grown and evolved from being a leading iGaming translation provider to a provider of over 30 integrated services oriented towards Digital Marketing, including emerging services such as NFT Marketing, Advergaming applied to the world of iGaming and Betting, SEO OUTREACH, for global on-line presence, and Influencer Marketing to initiate or consolidate the digital public relations structure.
Nearly two decades of experience in the sector allow us to nurture meaningful relationships and to provide advise on how to enter the Asian market or penetrate emerging African, Asian, and South American markets.
We created an internal department that meets all these needs, and we couldn't wait to announce it at ICE. The result was a success!
Translations are and will always remain our key activity. We have been the leading company in the sector for 17 years, offering multilingual content marketing and high-quality language services.
Having said that, our minds and our creativity lead us towards the frontiers of the Metaverse, towards a new world full of opportunities.
Our name has become our mission: Now more than ever, 1Stop Translations is all you need!